Related to SpinetiX ARYA ENTERPRISE

DSOS™ Licenses for increased player capability:
Digital Signage Operating System™ (or DSOS) is the lightweight, high-performance operating system designed and developed by SpinetiX to transform any qualified device into a dedicated digital signage player. The operating system allows users to add advanced capability to their devices through the purchase and activation of DSOS Licenses.
The three DSOS License types are called: WIDGETS, KIOSK, and SYSTEMS and are activated on a player-by-player basis. Each DSOS License type unlocks powerful sets of features to your digital signage players.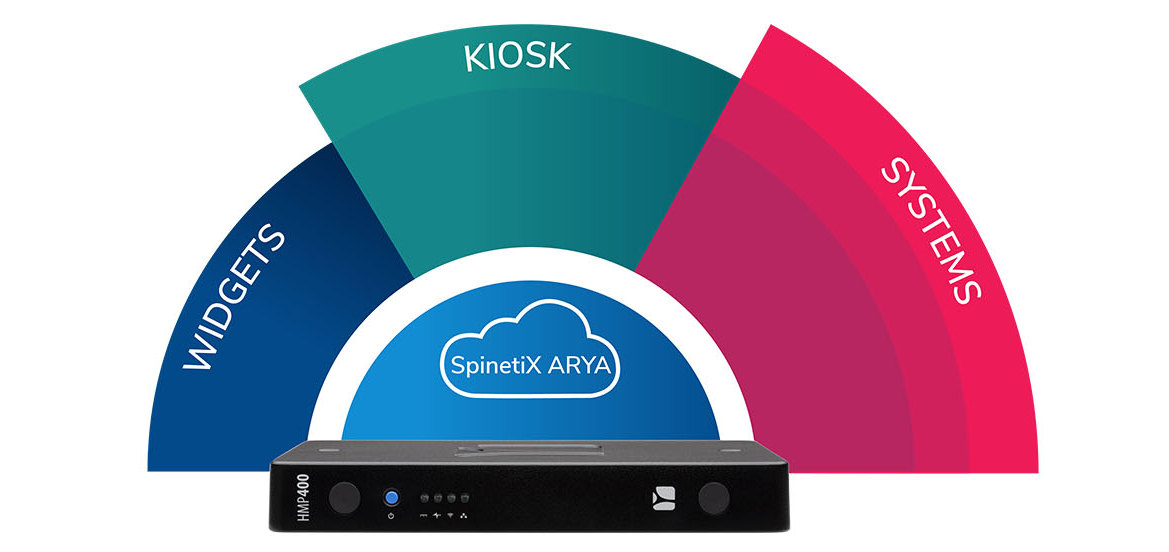 Note:
DSOS runs on the 4th generation of SpinetiX HMP players as well as on a growing selection of third-party Intel based players. For a list of supported players click
here
.
The following section provides an overview of added functionality that is enabled with each of the three DSOS License types when activated for your player.
DSOS WIDGETS

License
The DSOS Widgets License enables content made in the powerful SpinetiX Elementi authoring tool software to be played on your digital signage player. This includes a large set of widgets to help you create high-impact, data driven content.
DSOS KIOSK

License
The DSOS KIOSK License includes all features of the DSOS WIDGETS License as well as access advanced HTML content capabilities in Elementi including the ability to deliver rich interactive content for touchscreens.
DSOS SYSTEMS

License
The DSOS SYSTEMS License includes all features of the DSOS KIOSK License as well as multiscreen synchronization/video wall, custom resolution, IPTV, streaming and integrations with third-party services like queue management and room reservations.
Note:
The
WIDGETS
,
KIOSK
, and
SYSTEMS
licenses are directly available in the new
SpinetiX ARYA Plans
, bearing the same name.